Nola
I. Night
French Quarter split by stinking Bourbon Street,
wrought iron tongue of the old south, festooned spreading
sweet-spot on partied satin rimmed by puke-reeking gutters
floating handbills hawking Flynt's girls – fresh-faced
little sisters barely eleven, twelve, the face of our
daughters sucking off the lens of a close up camera
for the hoards of randy frat rats cocking the belligerent walk.
Shrieking renaissance theater geeks dare to be daring,
popping buttons for beads, tart breasts overhanging
high railings, astonishing only themselves and the
gawking throngs of mild Midwestern looky-loos
pouring down the throat of that bluesy rotting street,
moon-faced cows mesmerized, mistaking PirateCon
for some authentic southern slice, altogether blind to
the crumbly-toothed paltering locals, Queen City hustlers
dragging bottom for nickels and dollars, sloshing tubs
of cheap beer, hurricane koolaid, bucket brigade strung
street-to-street to finger the tit-baring, cash-wielding stumblers.
Farther out, on the just parted lips of that old French whore,
a brass jazz collective, soft ebony and swinging braids,
spring back on their heels and blow their muscular guts out,
visceral tang luring middle aged white women from the
pampering hotels on Canal Street in plump clusters inching
forward to throw dollar bills at the collection box, self-consciously
fussing and cooing over the four-year-old darling black son-of-a-jazzman
perched on an adorable crate at the feet of the delicious trumpet section.
Exotic smoky players in crisp white cotton collars, thrusting
their sweet brass through warm folds of night, tease dormant loins, surpass
Saint City's promise of creamy magnolias and curling Spanish moss.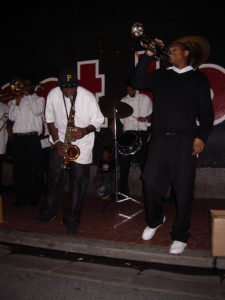 II. Day
Sunday is beignets and fleur de lis,
absolution and saving face.
Long gray breath of gulf
pushing wide freight and gulls
along the drawl of river walk,
trussed up city of decay,
boiling mudbugs and steaming chicory,
salty dream overlaying the artificial
essence of orange barely masking last night's
overspill. Just watered sunny balconies
drip ferns and spider plants shading
freshly scrubbed Sunday sidewalks.
Early morning conventioneers trickle,
scour cartooned maps of the Vieux Carré
for bloody marys and Latin mass,
Café Du Monde, graveyard voodoo,
garden district by St. Charles streetcar,
the House of Blues famous gospel brunch.
Mounds of merchandise sag the French Market,
Big Easy proof in countless incarnations:
t-shirts, mugs and carnival masks,
doubloons, voodoo dolls, spice of gumbo file,
Creole cookbooks and Tabasco pepper gift sets,
pralines, pecan logs, bourbon cakes,
Crescent City pins, posters, and baseball caps,
trinket boxes, easel art, absinthe drippers.
On Jackson Square, tincture of night music steeps the pining
silence of women gazing toward sunlit St. Louis Cathedral,
palming their rosaries, fondling their Mardi Gras beads.